New Horses More Donation's Needed
On Sunday, August 5th, Equine Voices welcomed three wild horses that were rounded up on Asarco property in Sahuarita, AZ. By law, horses that are considered "strays" must be taken to auction after a week and after an attempt to find the owner/s. We believe these horses came from the reservation to the west of the I-19 corridor. This ongoing problem puts the horses in jeopardy. In this particular round up there were five; a pregnant mare, a mare with a young foal, the stallion, a yearling colt and a grulla mare who we believe is pregnant. Unfortunately these five wild horses were transported by the AZ Department of Livestock, in 115 degree heat, three hours away to Buckeye AZ, which is west of Phoenix. These five wild horses, along with three domestic horses were subjected to an auction where three killer buyers were present. Thankfully a handful of rescue groups raised the ransom and arranged transportation for the horses. After some negotiation, Equine Voices was able to keep the stallion, yearling colt and grulla mare together and we agreed to take them. They arrived mid morning on Sunday and are now settling in peacefully.
Unfortunately, a young filly had been separated from the herd during the round up and was left behind, and later died of dehydration. We are dedicated to create a sustainable management plan to help future wild horses that find themselves at the mercy of those who can help them.
Due to this unexpected rescue, we are asking you, our donors and supporters to find it in your heart to help us with veterinary and training costs so we can give this family the care they deserve. You can help by sponsoring or donating by logging on to www.equinevoices.org, or calling the office at 520-398-2814 or contacting Manny@equinevoices.org.
We would like to thank Andy from Wild Horse Ranch Rescue for attending the auction and securing all eight horses, to Mike and Shannon MeFadden for transporting the horses to Equine Voices and to all the other rescue groups and individuals who assisted with this rescue. This was a true collaboration.
Oppose BLM/USFS Plan for Utah's Wild Horses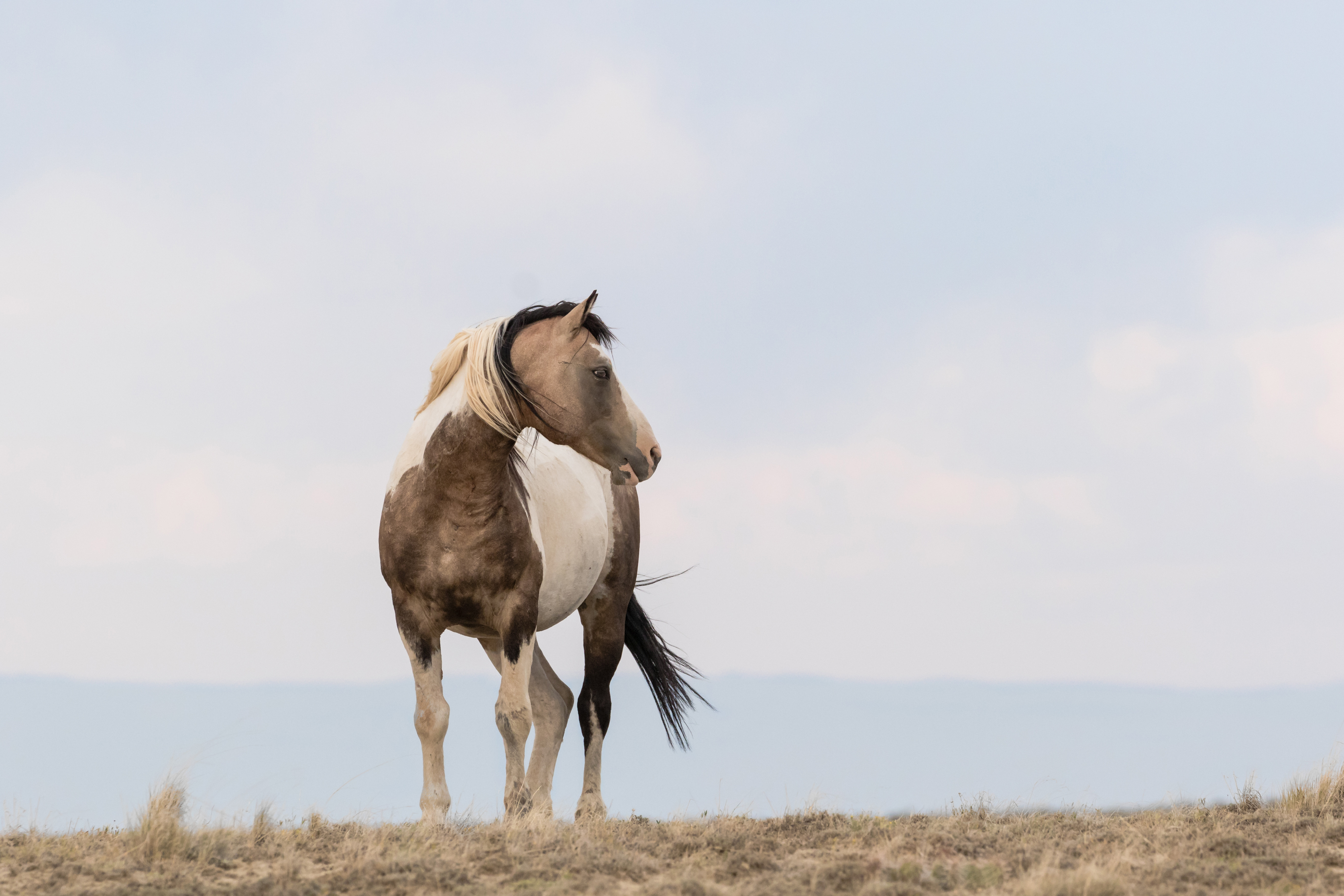 The Bureau of Land Management (BLM) and the United States Forest Service (USFS) are seeking public comments on an Environmental Assessment (EA) for the North Hills Herd Management Area (HMA) on a plan to round up and remove almost 200 wild horses as well as implement a controversial combination of population control tools over the next 10 years.
Located in Iron County, Utah, the North Hills HMA encompasses 74,000 acres of federal land and is currently home to 212 wild horses. However, the BLM/USFS have established the Appropriate Management Level (AML) at just 40-60 wild horses. At high AML, that's 1,233 acres per horse!
At the same time, the government authorizes the equivalent of 1,005 sheep (201 AUMs) and 147 cow/calf pairs (1,766 AUMs) to graze in the HMA, primarily during the winter and spring months, which are the most critical growth periods for rangeland health.
In this 10-year plan for the HMA includes:
Roundup and removal of between 150-160 horses this year and periodically returning to remove approximately 70-75 percent (40-120 horses) to maintain AML in the HMA. All horses living outside the HMA will also be permanently removed.

Skewing the sex ratio of the remaining stallions and mares to 60/40.

Using PZP, PZP-22 and/or GonaCona together – even though adequate research on the efficacy and effects of GonaCon on wild horses does not exist.

Managing the population at a genetically unsustainable level, potentially requiring the introduction of stallions from other Herd Management Areas to because there will be too few horses left on the North Hills HMA. This is an inadequate solution for addressing genetic viability problems, and it violates the agency's mandate to manage wild horses in self-sustaining herds.
Once again, the plan for the North Hills HMA reflects the government's preferential treatment of privately-owned livestock and its inhumane and ineffective management of wild horses.
Join us today! Please take a moment to personalize the EA comment letter below. Tell the BLM/USFS that wild horses in Utah should not be subjected to its continuing lethal management practices. Instead, they need to designate an alternative that prioritizes humane, cost-effective, and science-based fertility control in the form of PZP to manage herd populations without removing large numbers of horses from the range.
Last week we were saddened to tell you about the passing of our sweet and gentle giant "Big Ben". Unexpectedly, we had to make the very tough decision to euthanize him. Unfortunately were not prepared for the increase in cost of euthanasia. Because of Ben's size, our veterinarian had to administer a double dose of the drug needed to put him to rest peacefully and humanely. In addition, the cost of burial was more than expected. If you would like to contribute to Ben's veterinary costs, please log on to www.equinevoices.org, or by calling the office at 520-398-2814 or contacting Manny@equinevoices.org.
We are grateful to our veterinarian for his compassion and care during Ben's passing. Thank you Dr. Escalada for your love!
Save The Date Nov 11, 2018
What: Fall Fundraiser to Support the Equine Voices Horses

Where: Tubac Golf Resort 1 Ave De Otero Road, Tubac, AZ 85646 http://www.tubacgolfresort.com/
When: 5pm on November 11, 2018
5:00 – 6:30pm Silent Auction
6:30 – 8:30pm Dinner and Live Auction
Ticket price: $85 per person

Lady Godiva is Looking for a Place to Call Home
My name is Lady Godiva, named for my chocolatey smooth dark coloring. Just a couple years ago, I was seized at a checkpoint in a trailer carrying drugs. I am so grateful Equine Voices Rescue & Sanctuary came to my aid and purchased me at an auction. Surely my fate was doomed if they had not shown up. I am now loving life as a sassy 20 year old mare full of personality. I would be a great companion horse and am looking for a family who would love me unconditionally and give me lots of attention. I definitely enjoy a good grooming. I get along well with other horses as long as they know I prefer being the boss. I know the ropes when it comes to haltering, leading, and standing still for exams and hoof trims and willing to learn more. I would love to find my forever family

To Adopt or Sponsor, please contact us at info@equinevoices.org, or (520) 398-2814.

Charity Raffle to Help Equines
Help support Equine Voices through the 2018 Jim Click - Millions for Tucson Charity Raffle. 100% of all raffle tickets purchased will go toward Equine Voices and our mission. Call us today at (520) 398-2814.
Gulliver & Friends Needs Donations
If you have any items you would like to donate, please contact us!
Hours of operation at Gulliver & Friends Resale Boutique are Wednesday through Saturday, 11am to 3pm.
All proceeds benefit the horses at Equine Voices!

Gulliver Fan Club
If you love Gulliver and would like to support the horses at Equine Voices Rescue & Sanctuary, please join "Gulliver's Fan Club". For only $10/month, you can be part of helping Gulliver spread the word about the plight of the foals bred for the PMU industry.
Join The Gulliver Fan Club!
Sponsor a Horse!

Sponsor a horse and receive a beautifully framed picture of the horse you've chosen and their story. For an annual sponsorship you will also receive a beautiful Cowboys Collectible horse hair key chain. Colors and styles may vary based on availability.
Click Here to Sponsor!
Your content goes here...